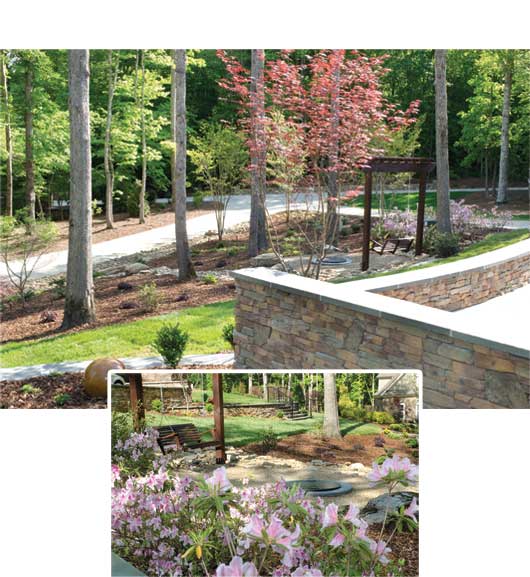 Now the real fun begins. Taking the plans designed specifically for your home, we begin the process of transforming your property. Just like the design is a process, so too is constructing your new landscape. The designer will communicate with the construction superintendent about the plans. The superintendent will then take that information and create an action plan to accomplish the design. Pulling any necessary permits and other fact-finding details will be taken care of during this time. Depending on the intensity of your plan, the designer may or may not accompany the crew to the site. Public utilities are marked, but the homeowner is responsible for marking any private lines. We will be glad to have those marked, although unlike public utilities, there is a cost associated with this service.

Once we begin building your new landscape, there may be instances when the property doesnít allow for the plan to be followed perfectly. At those times, the superintendent may make a suggestion directly to the homeowner, but oftentimes, he will have a conversation with the designer or request the designer make a site visit in order to collaborate on the best course of action. If the changes are going to incur significant monetary issues, we will attempt to create a quick cost estimate to inform our client of the impact the changes will incur. We do our best to stay in the budget, but typically as construction goes, our clients decide to elaborate on the details which do add more costs. We know once building begins, everyone is anxious to finish. However, we do take our time making sure all the pieces come together to form what we so painstakingly started when designing the gardens and living areas originally.

We are always impacted by weather when constructing your gardens and living areas. Whether itís rain, heat, cold, thunderstorms, etc., our timelines do shift continuously. Add in coordinating people and inspectors and the plans are always in flux. We do our best to communicate these changes, but there are times when we just donít know and weíll tell you that too. Our goal is to create a beautiful outdoor space that you are proud of and enjoy. This can be a difficult process, but itís one that will have a happy ending.

Donít push off one of the best decisions you can make. Call us today to begin ďMaking Your Outdoors HomeĒô.