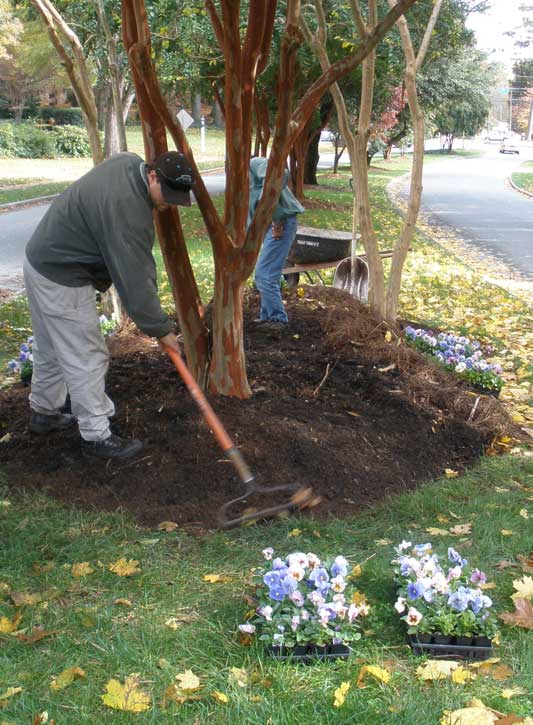 Keeping your landscape looking beautiful doesn't just happen. It takes work, knowledge, proper techniques, and the right people. Green View has all these areas covered with horticulturists and trained professionals. We spend the necessary time selectively pruning and caring for all of your plant materials. While many companies just sheer the plant material to form meatballs or squares, we instead hand prune the plant material to create a more natural shape unless we are working with a formal garden. And even then, hand pruning a tight hedge is critical to getting airflow and sunlight into the interior. Knowing what diseases, pests, and other issues affect your plants and how to treat them properly takes years of experience and training. Our crew leaders are sent back to continuing education classes during the course of each year to learn about new techniques or products available.

Taking care of your garden and the environment are not separate decisions. We have to find ways to care for your plants, turf, and property while trying to leave as small a footprint on the environment as possible. We use organic and biological controls as often as possible and when a chemical is required, we are diligent to use only what is necessary. Using these principles along with proper techniques allow us to keep your property beautiful while caring for our surroundings.

Please see below the list of services we offer. If you want your landscape to look its very best, then you need to call Green View today. We look forward to working with you and "Making Your Outdoors Home"™.
• Full Landscape Management
• Pruning
• Fertilization
• Weeding
• Mowing, Edging, etc.
(as part of the total service)
• Irrigation Management
• Leaf Removal
• Pesticide, Herbicide
and Fungicide Applications
• Mulching and Pine Needling
• Colorscapes (annual beds) &
Container Plantings