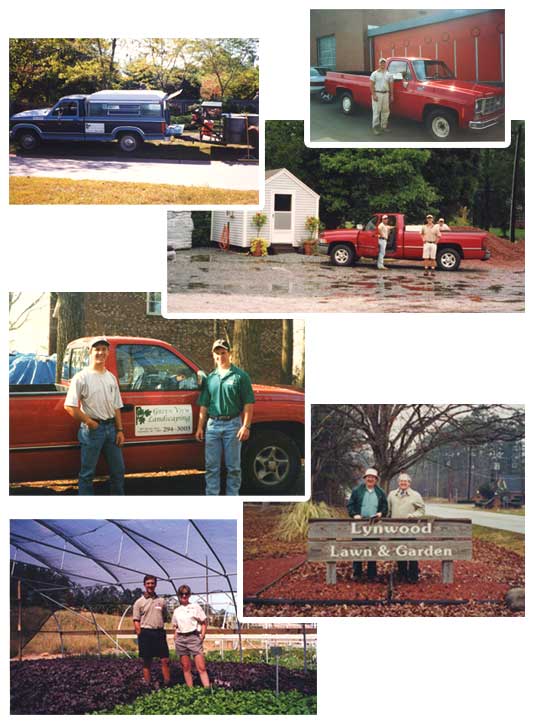 Our dad, Wayne Saunders, had a dream to one day own his own business where his children could be a part. He came from very humble beginnings and early on understood what hard work, dedication, and perseverance could accomplish, including being the first in his family to graduate from college (Guilford College). When Richard, the oldest son, and Ryan, his middle son, were in college and high school (in 1994) the three of them formed a partnership called Green View Landscaping and Landscape Management. What started out as two boys mowing yards from the time they were 12 and 10 years old to make extra money and help family and neighbors, grew into a full-fledged landscape business.

Richard attended the University of North Carolina at Greensboro to earn a degree in Business Marketing and Management, later going back to GTCC to learn computer-aided design (CAD) while Ryan attended Forsyth Technical College and received his Horticulture Degree. Ryan also has received his Landscape Contractor and Irrigation Contractor Licenses along with many other industry certifications. In 1998, we incorporated and began our full-time work. Shortly after in January 1999, we bought the mulch facility on Liberty Road where we are currently located and expanded its offerings. Wayne had backed his boys for years and helped teach them his principles. He was behind the scenes providing financial backing and business acumen gathered from years of experience in the textile and furniture industries. In 1999, Katie Saunders Coleman joined her brothers as she was pursuing her degree in Interior Design at Randolph Community College. Finally in 2000, Wayne resigned his position in the furniture industry to go full-time with his family.

Years of experience, continuing education, and dedication to learning our profession have helped develop Green View into one of the leading landscape companies in North Carolina. We are blessed to have exceptional people working with us as we have grown over the years. Our goal is to "Make Your Outdoors Home" ™. We accomplish this through careful listening, intelligent design, sound construction, installation, and management practices, and a willingness to follow through for our clients. We are glad you are interested in becoming a valued client and look forward to "Making Your Outdoors Home"™.